Bonjour!
It's been a whirlwind two months so far this year, shows were joyfully busy! We keep thinking how it can get any busier in these showrooms and our customers keep showing us that it is indeed possible! How lucky are we? Our customers are simply the best! The business of each show season takes patience on our customers' part as it is truly a "jungle" inside the showrooms at times and yet our customers come and work through the crowds. We all need to keep that spirit of gratitude and excitement in each and every day! Thank you to everyone for all of the hard work that goes into our show season! As hard as it was to leave the jungle of the shows this year, it just had to be done as the road was calling…off to Paris.
Isn't Paris lovely in spring? Probably, but in January it's really COLD! Oh well, it doesn't matter, it's Paris and the trip proved worthwhile. Walking the streets of the Marias was inspiring to see. With the new designer's windows and spring collections all in one place, the creative spirit on display is always an exciting place to be. It never ceases to amaze me how secure some people are with their visions and it seems in Paris I find the boldness of the trends and colors much like encouraging words that say "go ahead do it, don't be afraid, they'll love it." This and the extra calories I consumed on the trip gave me just the nudge I needed to get started on the new product that's headed our way. (I mean really, who can deny these exquisitely stacked sculptures of baked wonders staring at you through the Patisserie windows?) Everywhere you turn there is simply something so beautiful…and it's usually to eat!
What did we see?
I can certainly say that we will see more color in 2011! We saw every shade of blue from indigo to teal. The colors were used as neutral back drops in a modern take on vintage. We were seeing a ton of influence from the Far East, specifically China (think Tang dynasty). Classic designs with vintage finishes mixing perfectly with European antique styled furniture and accessories. As the home usually follows fashion, you will undoubtedly be seeing even bigger infuses on casual, yet chic. Tailored classics mixed with vintage keepsakes, and, of course, as all the chic ladies out there know that a pair of colored shoes, tights or gloves can make a sophisticated and personal statement! Dressing the home will follow this same recipe in the months ahead. 2011 spring fashion must have oranges and blues that will find their way into more of our homes. Subtle or bold touches add a very current and updated feel to an everyday item. Rich greens mixed with chartreuse and tones of plums and lavenders were also quite prevalent, either in a very modern way or shown very worn with patina and layers of finish.
A big influence of what goes on one's wall gave me a plethora of fun ideas that I hope you all get to see very soon. Clusters of collections found of mixed mediums on the walls as well as table scapes were very interesting and gave a curio yet sophisticated effect to the home. Ikat fabric patterns were found everywherefrom very formal settings to the bohemian chic feeling. We saw the Union Jack more in France than we did in London last year from the classic colors to neon pink!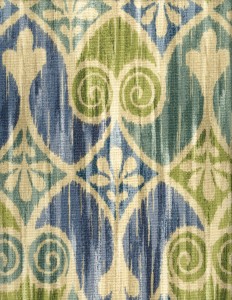 The trip is over now, yes definitely over, as I write this under a grey skied China. How I'd love to find a little Bistro on the corner. Truthfully, as dreamy as it all sounds (and Paris is truly great), but reality is it's simply a time when I get to slow down for a few days and consider all that has happened the previous year and at the January show season with Creative Co-Op. I cozy up wearing hat and gloves with bowls, not cups, of coffee and figure out how to apply all of the great suggestions and comments I hear from all of you! I can't help myself – creativity just seems to flow more freely for me while wearing hats in France! The goal is to tie it all together: trends, suggestions, sales and cost all into one neat package – items and groupings that will continue to give our customers the advantages to succeed in their business! The simple truth of the matter is the very best inspirations come from our customers and for this we are very blessed!
Aviore!
Tamra