Creative Co-Op congratulates Erica of Erica's Eclectic Mix in Englewood, CO on winning an iPad 3 from the Creative Co-Op showroom at the Dallas Trade Mart!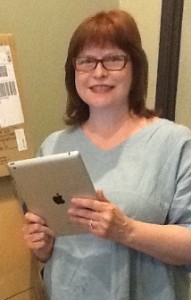 "Up to my eyeballs in boxes, but my new iPad helps me through! Thanks Creative Co-Op for such a great prize, I look forward to opening all my new goodies and carrying your wonderful gift line," says Erica. "I am doing a 'Bluebird of Happiness' theme going into the holidays, my new iPad really makes me HAPPY! So I'm off to a great start!"
Creative Co-Op is happy for you too, Erica!!