Our Mesquite Horseradish Mustard is a wonderful combination of grainy stone-ground mustard and smokey mesquite with a hint of white wine. It's a great balance for any sandwich, potato salad, or charcuterie board. Use as is on sandwiches, burgers, and brats, or in your favorite recipe instead of yellow mustard for a smoky, tangy kick.
Recipes:
---
Oyster Cheddar Pie
Servings: 10–12
Ingredients:
5 tablespoons unsalted butter, divided
1/4 cup finely chopped onion
1/4 cup finely chopped green bell pepper
1/4 cup finely chopped celery
2 green onions, finely chopped
1 teaspoon minced garlic
1/4 cup dry white wine
2 (16-ounce) containers freshly shucked oysters, drained
2 tablespoons all-purpose flour
2/3 cup heavy cream
1/4 cup shredded sharp cheddar
1/4 cup shredded mozzarella
2 tablespoons F+F Mesquite Horseradish Mustard
1 tablespoon dried parsley
1 teaspoon crushed red pepper Salt and black pepper
12 small pie crusts
Directions:
Preheat oven to 350°F.
Melt 2 tablespoons of the butter in a pan and sauté the onion, bell pepper, celery and green onion until soft, 5–7 minutes.
Stir in the garlic and stir 1 minute more.
Add the white wine and cook until thoroughly evaporated.
Add the oysters and simmer until cooked, stirring often, about 5 minutes.
In a separate pan, melt 1 tablespoon butter and stir in the flour until incorporated.
Add the cream and continue stirring until the mixture is smooth and thickened.
Add the cheeses and F+F Mesquite Horseradish Mustard, stirring until cheese is melted.
Add the parsley and crushed red pepper. Season to taste with salt and pepper.
Combine cheese sauce with the oyster mixture.
Fill pie crusts about halfway up the side, making sure there's an oyster in each.
Melt the remaining 2 tablespoons butter and combine with the breadcrumbs in a bowl.
Generously sprinkle the top of each oyster pie with breadcrumbs and bake until bubbly, about 10 minutes.
Switch oven to broil and cook only until golden brown on top. Let cool a little before serving.
---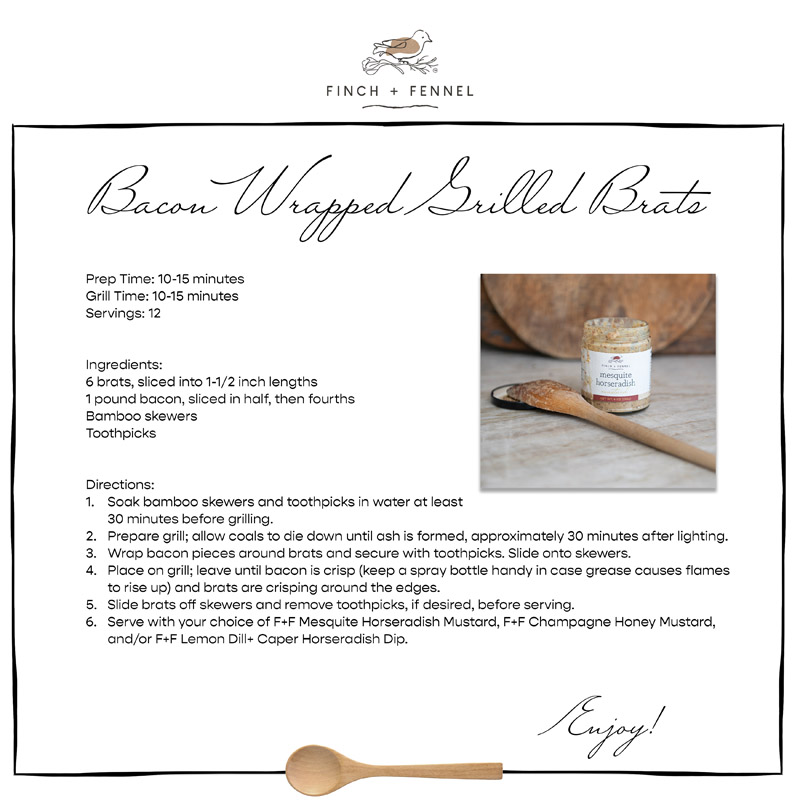 Bacon Wrapped Grilled Brats
Prep time: 10–15 minutes
Grill time: 10–15 minutes
Servings: 12
Ingredients:
6 brats, sliced into 1-1/2 inch lengths
1 pound bacon, sliced in half, then fourths
Bamboo skewers
Toothpicks
Directions:
Soak bamboo skewers and toothpicks in water at least 30 minutes before grilling.
Prepare grill; allow coals to die down until ash is formed, approximately 30 minutes after lighting.
Wrap bacon pieces around brats and secure with toothpicks. Slide onto skewers.
Place on grill; leave until bacon is crisp (keep a spray bottle handy in case grease causes flames to rise up) and brats are crisping around the edges.
Slide brats off skewers and remove toothpicks, if desired, before serving.
Serve with your choice of F+F Mesquite Horseradish Mustard, F+F Champagne Honey Mustard, and/or F+F Lemon Dill+ Caper Horseradish Dip.