Sweet honey and spicy horseradish meet the brightness of champagne in this unique twist on honey mustard. Pair Champagne Honey Mustard with burgers and brats, pasta salad or cheese boards.
Add to potato salad
Spread on sandwiches, burgers & brats
Dip pretzels or sharp cheese
Pair with any sweet to medium-bodied oaked white or sparkling wine
Recipes:
---
Potato Salad
Ingredients:
5 medium sized Yukon gold potatoes
3 hardboiled eggs, chopped
1-1/2 cup chopped celery
1/2 cup sweet onion
1/4 cup pickle relish (sweet or dill to taste)
1 tablespoon Finch + Fennel Seasoning Blend
1/4 cup F+F Champagne Honey Mustard
1/4 cup mayonnaise
Salt and pepper to taste
Directions:
Bring large pot of salted water to boil.
Add potatoes (peeled or unpeeled, to preference). Cook until just tender but still firm. 
Drain potatoes, large chop.
Mix all ingredients together and chill.
Garnish with fresh dill.
---
Roasted Beet, Walnut & Feta Salad
During any special occasion, your go-to salad might need an upgrade—and we think beets are the way to go, both for color and for flavor. Walnuts play a role, not only for texture in the salad but for the hint of nutty flavors from walnut oil in the vinaigrette dressing. And of course, using Champagne Honey Mustard is always an upgrade when it comes to tangy and sweet at the same time.
Servings: 4
Ingredients:
Walnut Vinaigrette:
1/2 cup good-quality roasted walnut oil
1/4 cup extra-virgin olive oil
1 tablespoon syrup from mandarin orange segments
5 tablespoons sherry vinegar
3 teaspoons F+F Champagne Honey Mustard
1 tablespoon finely minced shallots
1/2 teaspoon salt
1/2 teaspoon freshly ground pepper
Salad:
1 pound roasted beets, peeled and sliced Arugula
1 cup cherry tomatoes, cut in half
1 cup mandarin orange segments (with syrup)
1/2 cup crumbled feta cheese
1/2 cup toasted walnuts
Directions:
To make the vinaigrette, place the roasted walnut oil and all the other vinaigrette ingredients in a glass jar and close the lid tightly. Shake vigorously to combine. Adjust the seasonings to taste.
Allow the dressing to sit at room temperature for 1 hour to allow the flavors to develop before serving.
Cut the beets in half or quarters (if you're using larger beets, cut into 1/2-inch dice) so they're bite size.
Place the beets in a small bowl, add 1 to 2 tablespoons of the vinaigrette and toss until the beets are coated.
Just before serving, place the arugula in a large salad bowl.
Add about 3 tablespoons of the vinaigrette. Toss to coat the leaves lightly, then taste and add more vinaigrette if needed.
Transfer the arugula to a platter or individual salad plates.
Arrange the tomatoes, beets and orange segments on the greens and sprinkle them with the feta and walnuts.
---
Shrimp Remoulade
Servings: 8
Ingredients:
Remoulade
3 tablespoons F+F Champagne Honey Mustard
3 tablespoons prepared horseradish
1 tablespoon extra-virgin olive oil
1 tablespoon red wine vinegar
1 tablespoon lemon juice
1 tablespoon diced green onion
1 tablespoon dehydrated onion
1 tablespoon paprika
1 tablespoon ketchup
2 tablespoons dried parsley
1 teaspoon Creole seasoning
1 teaspoon garlic powder
1 teaspoon lemon pepper
1 teaspoon crushed red pepper
Ground red pepper to taste
SALAD
2 pounds shrimp, boiled, cooled and peeled
Romaine lettuce leaves
Sliced Roma tomato
Sliced black olives
Directions:
In a bowl, combine all the Remoulade ingredients and add the shrimp.
Let marinate in the refrigerator for at least 1 hour—overnight is even better.
When ready to serve, cover 8 salad plates with lettuce leaves and then with slices of tomato.
Spoon the chilled shrimp and sauce and top of the tomatoes. Garnish with sliced black olives.
---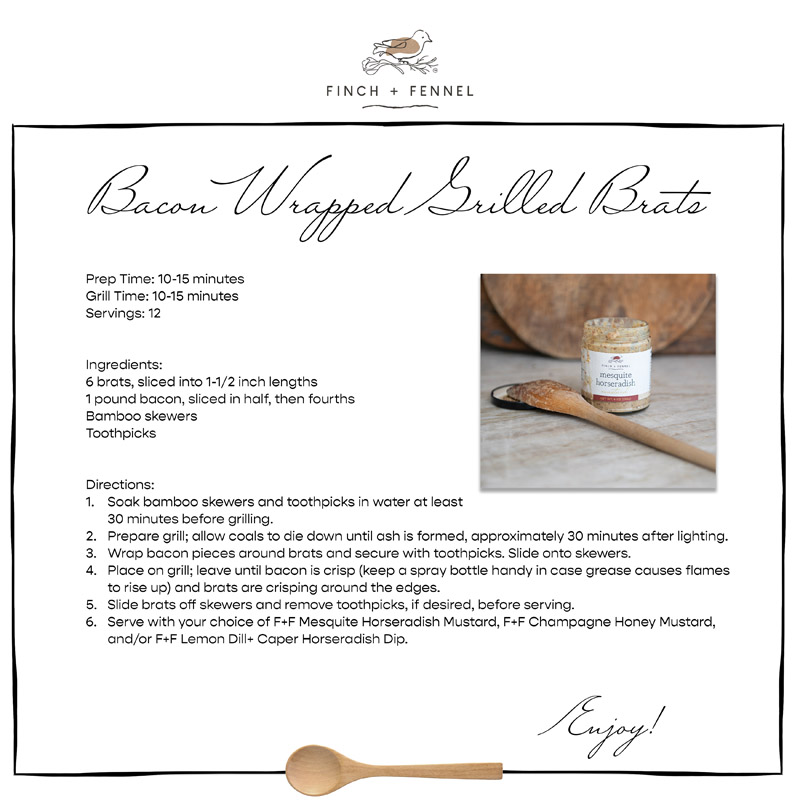 Bacon Wrapped Grilled Brats
Prep time: 10–15 minutes
Grill time: 10–15 minutes
Servings: 12
Ingredients:
6 brats, sliced into 1-1/2 inch lengths
1 pound bacon, sliced in half, then fourths
Bamboo skewers
Toothpicks
Directions:
Soak bamboo skewers and toothpicks in water at least 30 minutes before grilling.
Prepare grill; allow coals to die down until ash is formed, approximately 30 minutes after lighting.
Wrap bacon pieces around brats and secure with toothpicks. Slide onto skewers.
Place on grill; leave until bacon is crisp (keep a spray bottle handy in case grease causes flames to rise up) and brats are crisping around the edges.
Slide brats off skewers and remove toothpicks, if desired, before serving.
Serve with your choice of F+F Champagne Honey Mustard, F+F Lemon Dill+ Caper Horseradish Dip, and/or F+F Mesquite Horseradish Mustard.