In our Lemon Dill + Caper Horseradish Dip, the pungency of horseradish pairs nicely with dill and capers, making this bright and zesty dip perfect on salmon. Also try it in coleslaw, on meat and cheese boards, in potato salad or on a turkey club.
Recipes:
---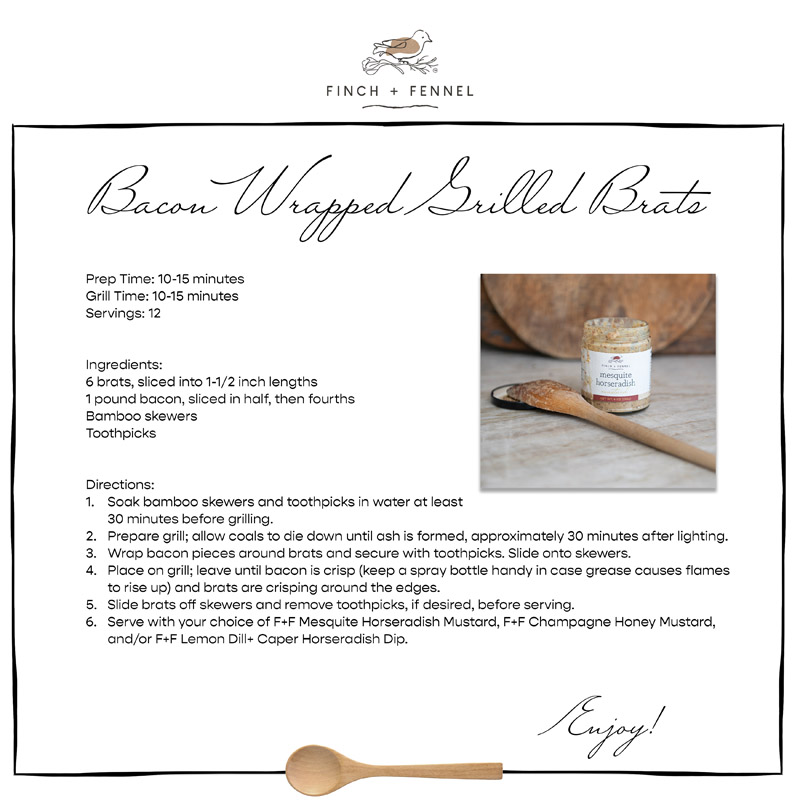 Bacon Wrapped Grilled Brats
Prep time: 10–15 minutes
Grill time: 10–15 minutes
Servings: 12
Ingredients:
6 brats, sliced into 1-1/2 inch lengths
1 pound bacon, sliced in half, then fourths
Bamboo skewers
Toothpicks
Directions:
Soak bamboo skewers and toothpicks in water at least 30 minutes before grilling.
Prepare grill; allow coals to die down until ash is formed, approximately 30 minutes after lighting.
Wrap bacon pieces around brats and secure with toothpicks. Slide onto skewers.
Place on grill; leave until bacon is crisp (keep a spray bottle handy in case grease causes flames to rise up) and brats are crisping around the edges.
Slide brats off skewers and remove toothpicks, if desired, before serving.
Serve with your choice of F+F Lemon Dill+ Caper Horseradish Dip, F+F Mesquite Horseradish Mustard, and/or F+F Champagne Honey Mustard.