Chermoula (pronounced "cher-MOO-lah") is a marinade and sauce popular throughout northern Africa, especially Morocco, Algeria and Tunisia. Our Moroccan Seasoning recreates Chermoula sauce's complex flavors in a convenient dry form.
Finely ground, hand-blended seasoning
Balanced blend of salt, herbs, spices, ground chiles and other seasonings inspired by the flavors of northern Africa
Ready to use as-is as a dry rub
Ready to use. Add to taste.
Use on grilled seafood, meat, or poultry
Add to ground lamb to make kabobs or burgers
Blend into Greek yogurt to marinate or chicken
Season scone, biscuit, or cracker dough
Recipes:
---
Moroccan Grilled Salmon Steaks
Characterized by sweet and spicy chiles, garlic, citrus and bold spices like cumin, coriander and turmeric, our Moroccan seasoning dramatically changes dishes.
Prep time: 20 minutes
Cook time: 40 minutes
Servings: 4
Ingredients:
4 salmon steaks, bones removed
2 ounces olive oil
2 tablespoons red wine vinegar
2 tablespoons hot water
4 tablespoons F+F Moroccan Seasoning
Directions:
Cover the F+F Moroccan Seasoning with the vinegar and water, set-aside until cool.
Mix the oil and wet Moroccan Seasoning to make a paste.
Brush the salmon steaks lightly with the paste and hold in a refrigerator.
Heat a grill to a medium high temperature. When hot add the steaks.
Grill for 3-4 minutes and turn over, if the salmon does not lift off the grill easily wait another minute or two.
When the steaks are flipped cook for another 3–4 minutes.
Remove to serving plates and serve with the remaining Moroccan Seasoning sauce.
---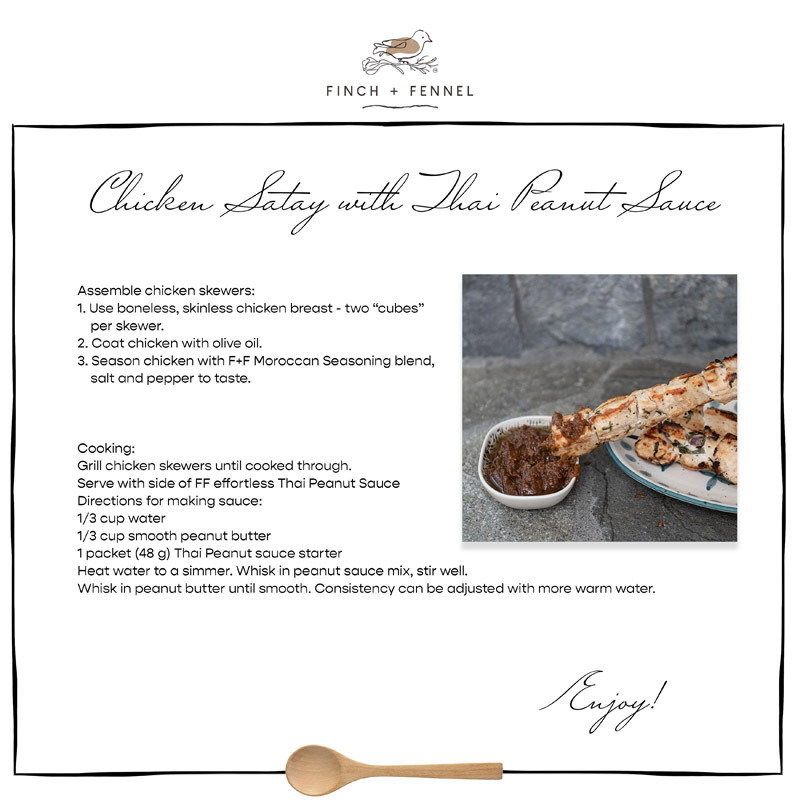 Chicken Satay with Thai Peanut Sauce
Ingredients:
Thai peanut Sauce:
1/3 cup water
1/3 cup smooth peanut butter
1 packet (48 g) F+F Effortless Thai Peanut Sauce Mix
SKEWERS:
Boneless, skinless chicken breasts
Olive oil
F+F Moroccan Seasoning
Directions:
Thai peanut Sauce:
Heat water to a simmer
Whisk in F+F Effortless Thai Peanut Sauce Mix, stir well
Whisk in peanut butter until smooth
Consistency can be adjusted with more warm water
Skewers:
Use boneless, skinless chicken breast—two "cubes" per skewer.
Coat chicken with olive oil.
Season chicken with F+F Moroccan Seasoning blend, salt and pepper to taste.
Grill chicken skewers until cooked through.
Serve with side of Thai Peanut Sauce